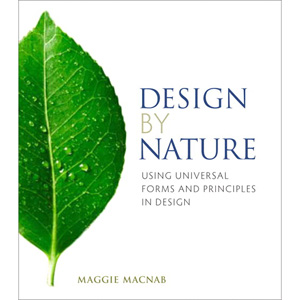 Most designers today create their work on a computer, but the best designs seem to have a timeless quality that appears again and again. These timeless designs often have roots in nature. Our notions of space, color and juxtaposition are informed by the world we live in and what we see around us since birth. However, designers staring at a screen all day often forget this natural inspiration.
Maggie Macnab has written a revealing book, Design By Nature: Using Universal Forms and Principles in Design, that outlines the natural principles at work around us helps us apply them to design problems in our daily work. I really appreciate a book like this in the workplace because I've always found nature to be a rich source of inspiration in many different ways. Maggie takes very basic concepts—pattern, shape, color, juxtaposition, symbolism and many more—and illustrates them at work in our natural world and also in our human-made, designed world. It's very intriguing and "rings true" with what I feel in my own work.
Design By Nature is well-written and is structured appropriately—I never felt lost or thought I needed to jump ahead to get a critical concept. There are also some small "Putting It Into Practice" exercises sprinkled throughout the book that aren't too difficult or require technical skills but make you think about your process and get in touch with the designs inherent in nature.
I also enjoyed the guest designer sections that focused on a designer's work. A lot of them are written by the designer and talk about their process, past clients and projects, and their thoughts on design. I wish they focused more on the "design by nature" theme because many of them read like typical manifestos on design. The best ones focus on a particular project.
I also want to point out something which bothered me while reading Design By Nature: Maggie uses a lot of her own work and her students' work to support her principles and ideas in the book. That is okay but I would prefer to see a diverse range of designs used to support the book's teachings, and from a variety of artists and designers. The range of work in Design By Nature is sometimes just too inclusive of the author's own inner circle.
Despite this, I really enjoyed Design By Nature and I would recommend it for many graphic artists and designers, especially those with a fine arts or an environmental arts background. Their work is probably already based nature even if they don't realize it, and understanding the natural process of design is vital to successful creations.
Design by Nature: Using Universal Forms and Principles in Design
Maggie Macnab
Published by New Riders
US $44.99
Rating: 9/10
Buy from Amazon.com