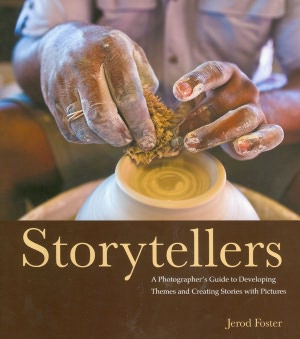 There are two types of photography books: the nuts-and-bolts variety with detail on apertures, lenses and lighting setups, and the artistic variety that attempts to explain the ephemeral aspects of photography like creativity, inspiration and storytelling. Storytellers by Jerod Foster is in the second category and the book contains almost 300 pages devoted to the art of photographic storytelling.
There's lots of beautiful photography in Storytellers and I found myself enjoying the pictures as well as the writing. The photographs are not just Jerod's either but other photographers who are profiled and interviewed in the book. Note that Jerod and several other photographers in the book are based in Texas, so there is a noticeable emphasis on Texas photography in Storytellers.
The test with any artistic photography book is to transcend the mundane aspects of photography and describe the creative photographic process in a way that rings true. Storytellers doesn't always pass the test—it's a fun read and I learned some things, but some of the processes Jerod describes in the book are typical things like shot selection, composition and the use of light. These are all important topics and certainly related to storytelling, but I felt that it danced around the heart of the art of storytelling.
I studied and wrote on creativity back in my college days and I'm convinced the most illuminating writing on creativity can be applied to all creative art forms and be made to "fit" with minimal changes. Storytelling techniques apply to writing and music as well as photography. While reading Storytellers, I had a hard time applying some of its lessons to those other art forms and so the lessons appealed to photographers and not always to storytellers.
Storytellers is still a very fine book and fine art photographers will certainly enjoy it. It's well-written and contains some very nice shots. I think the book will also help photographers understand how their craft builds stories and how to hone their storytelling craft. My main complaint is the lack of focus on storytelling and overemphasis on nuts-and-bolts photography topics that are probably covered in more detail in other books.
Storytellers
Jerod Foster
Published by New Riders
US $44.99
Rating: 8/10
Buy on Amazon.com